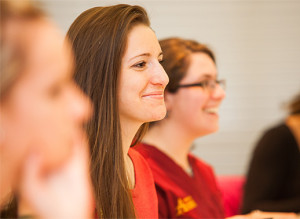 A Master's in Health Informatics will take you places in the growing field. If you want to work in the health industry and you would prefer to interpret and analyze clinical data, working in informatics is a practical and also a smart choice. With a growing demand for experts who deal with health information systems, informatics is becoming a popular subject area to study. Not only is the demand on the rise, salaries in health information management are on the rise too in most settings. To compete for health information management roles, most employers prefer that you have your master's degree. Read on, and learn if you have the background that you need to enter into a reputable master's program.
What Are the Educational Prerequisites to Earn an Master's in Health Informatics?
Before you can earn a master of science degree in any field you must hold a bachelor's degree. Any school that is regionally accredited and holds a programmatic accreditation will require you to show proof that your earned your bachelor's degree from an accredited school. This is why it is essential that you research the accreditation status of any school that you plan on applying to when you are an undergraduate student. If you fail to do this, there is a good chance that the credits you completed at the unaccredited school will not count towards your admissions consideration.
Are There Specific Class and Grade Requirements?
The actual degree requirements depend on the competitive nature of the program. Schools where there is a great deal of competition might request that you have a bachelor of science in health informatics or a related field. A majority of schools do not require you to hold a specific degree but they will ask that you have certain classes under your belt. The prerequisite competencies are important because you need to be familiar with the subjects to comprehend school material.
Competencies that are most common include: medical terminology, anatomy, physiology, intro to computers, and database applications. You must pass all of these classes with a "C" or better in most cases. If you do not have all of the prerequisites that are required, you may be able to receive a conditional admission as long as you complete the courses by a specific deadline.
What are Entrance Exam Requirements?
Many graduate schools also have entrance exam requirements to assess whether or not you are ready to cover graduate material. The most common exam requirement is the Graduate Record Exam (GRE). This standardized exam will test your verbal, quantitative, and analytical abilities. It will be considered along with your grade point average during the admissions decision. This is why you need to take the exam early and prepare for it so that you get an acceptable score. The score will be submitted to the schools that you select when they are ready.
To enter a master's degree program you do not typically need professional experience in the healthcare field. Be sure that you take your time as an undergraduate student seriously so that you are seen to be a great graduate candidate. After you take the necessary classes, check the application deadline and start preparing your documents in advance so that you can start to study for your master's in health informatics.