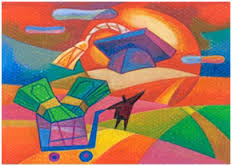 A master's in health informatics (MHI) is an advanced graduate-level degree that will prepare individuals in the field to better understand the relationship between information technology and the healthcare system. If you are on a mission to become an expert in computer sciences and health sciences, this might very well be the degree for you. Unfortunately, graduate studies often cost more than undergraduate studies due to the fact that more aide is available for an undergrad. Because the cost of a master's degree can be so high, you must weigh the costs and the benefits to determine if earning a degree will eventually offer you a return.
How Much Does the Average MHI Degree Cost?
Before you can calculate the potential return on an MHI degree, you need to be sure that you know the cost of tuition. How much you will actually spend on tuition depends on the type of school that you want to attend and the type of program you prefer to take. A master's degree can cost anywhere from $25,000 to $120,000 out of your own pocket if you do not earn a scholarship.
As you compare the overall cost, make sure that you review the cost per credit for in-state and out-of-state students. Do not forget to account for the cost of living, housing and other educational costs so that you know the true cost of attendance. You should also take the time to compare the reputation of each accredited program so that you get a degree from a school that is respected by employers in the field.
Do You Have Time to Earn Your Degree?
You first need your bachelor's degree before you can gain acceptance in a master's program. Once you have your BS in the field, you will more than likely start to seek employment. It is not uncommon to choose to pursue a graduate degree when you are already gainfully employed. Doing this will help you advance your career, your title, your knowledge and your salary. Earning a degree costs money, but it also costs you your time. As a full-time student, you can expect to spend 36 to 40 hours each week studying. For two years you will need to learn how to balance your time between work, play and school so that you can become an MHI alumni.
What Are the Advantages of Holding a Master of Science in Health Informatics?
Now that you know the opportunity costs, you need to learn what the payoffs will be at the end of the day. One of the biggest payoffs is that you will be able to network with nurses, pharmacists, physicians, analysts and even computer programmers while you are in school. This networking opportunity will lead to new professional opportunity following graduation. With a MS degree, you can take on leadership or specialist roles and earn your certification. Certified Health Informatics Systems professionals earn a significantly higher salary and are distinguished in the highly competitive marketplace.
Someone with a graduate-level education in the field of informatics will earn an average $81,879 per year. If you want to earn a field that is only projected to grow, develop your skills and start working towards a Master's degree. Be sure that you meet the admissions requirements early on, and review the requirements for Master's in Health Informatics programs before you graduate with a Bachelor's.